The global organic personal care market is highly competitive, observes Transparency Market Research. Presence of several players and consistent influx of local vendors has made the competition extremely stiff. Though this means rapid growth rate for the global organic personal care market, it also translates to companies investing more in better branding and marketing strategies to improve the presence of their products. In the coming years players are expected to cater to the demands of varying regional consumers keeping in mind factors such as weather conditions and dietary habits that affect skin and hair. Some of the leading players operating in the global organic personal care market are Amway, The Body Shop, Loreal SA, Natura Cosmeticos SA, and Estee Lauder.
According to the research report, the global organic personal care market is expected to be worth US$18.7 bn by the end of 2022 from US$10.9 bn in 2017. During the forecast years of 2017 and 2022, the global market is projected to surge at a CAGR of 11.3%. Out of the various products available in the global market, the demand for hair care products is expected to remain the highest in the coming years. By the end of the forecast period, the hair care segment is projected to be worth US$5.7 bn. Geographically, the global organic personal care market is likely to be dominated by North America as it paces to reaches an estimated valuation of US$5.8 bn by the end of 2022.
Want to know the obstructions to your company's growth in future? Request For a Sample Report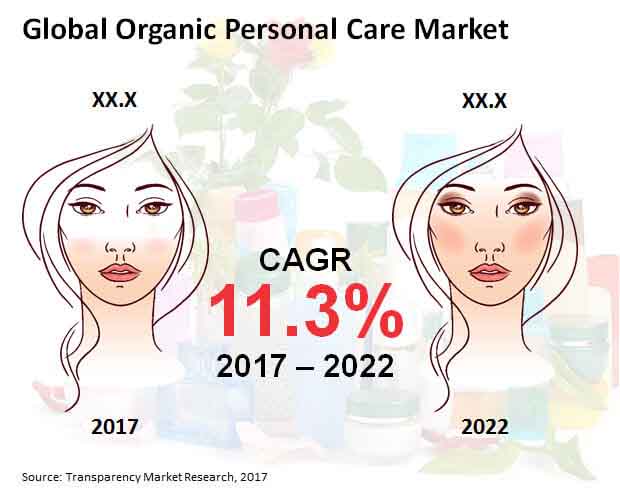 Awareness about Benefits of Organic Personal Care Products to Spike Demand
The global organic personal care market is expected to witness a definite surge in the coming years as disposable incomes continue to be on the rise. The change in the use of products for personal grooming and increasing awareness about the aesthetics are significantly fueling the growth of the overall market. In the coming years, the market is also likely to be driven by growing concerns pertaining the usage of chemicals in cosmetics and other personal care products. Thus, the wave of living a chemical-free life is likely to stoke the demand for organic personal care products in the near future.
Looking for exclusive market insights from business experts? Request For a Custom Report 
Entry of several brands that have been promoting natural and organic personal care products for hair, skin, nails, and overall wellbeing have caught the attention of many youngsters with disposable income and awareness. Additionally, there has been a growing realization about the benefits of using organic personal care products. Both of these factors have been identified as key drivers for the global market. Improving distribution channels and rise of e-commerce has also augmented the global market to a new level. Ability to shop for these products online has significantly improved the profit margins for the various companies.